MediaTakeOut.com obtained photographs of Paris Hilton nuzzling up to Kanye West as his fiance Alexis looked on in the background before warmly greeting the heiress during Olympus Fashion Week. The web site, known for hyping situations and fabricating others in the past, claimed Hilton was "sensually kissing" the rapper on the neck, but with Alexis just feet away in all the images and showing no signs up being upset, the claim would seem dubious. Check out the picture below.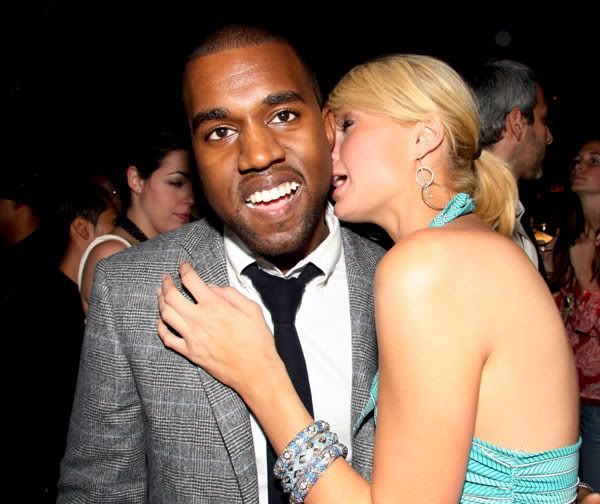 'Bottoms Up' Director Defends Paris Hilton's Work
September 14, 2006 – Responding to Simona Fusco, who dances topless in Paris' new film 'Bottoms Up', and says the heiress showed up late on the set and hadn't memorized her lines, filmmaker Erik MacArthur told The New York Post that Paris Hilton was perfectly competent and has star quality. "I think Simona is trying to take down the movie," MacArthur opined, admitting he had a fling with Fusco and giving her just one line to speak: "Last one in is a rotten egg!"
September 14, 2006 – Conan O'Brien joked during his Late Night monologue on Tuesday night, "Then I got to mention this. This is a weird story, an airline recently refused to let Paris Hilton on a flight, when she tried to board carrying a monkey and a ferret. Not surprisingly, the airline did let the monkey and the ferret on."
Paris Hilton Diva Routine Delays Heatherette Show
September 14, 2006 – Backstage at the Heatherette Fashion Week show the other night, Paris' hissy fit resulted in the show being delayed for over an hour, a spy on the scene tells Radar magazine. A member of the video crew was overheard complaining to his producer that the heiress had tried to back out at the last second, having to be guilted into hitting the catwalk. The story at radaronline.com has since been removed.
Paris Hilton Targeted For Exotic Pet Collection
September 14, 2006 – Animal activists are so enraged at Paris Hilton for accessorizing with exotic pets such as a ferret and a kinkajou, that they have launched the website TellParisNo.com. The site wants animal lovers to write the "alleged singer and celebutante" to get her to stop illegally collecting wildlife. The site has since shut down.
Related News